How To Reduce

The #1 Sign Of
Aging On Your Face
eye Agespots

eye puffiness

eye Wrinkles

eye Dark Circles
The skin around and under your eyes are the thinnest and most delicate in the body... And this is why they are the FIRST place to show wrinkles and signs of aging.
If that isn't bad enough, the older we get the DARKER the skin under our eyes become due to hormonal changes, allergens, environmental toxins, stress, dehydration and simply - lack of good, deep, restful SLEEP! Yes, stress ages the entire body and under your eyes is no exception.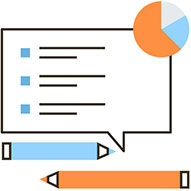 In fact, in a survey of over 18,200 people, the #1 rated "indicator of aging on someone's face" was "under eye wrinkles & darkness" and #2 being "forehead wrinkles"
And this makes sense, since the first thing people see on your face are your eyes! So we need to do everything possible to prevent and reverse aging around your eyes to give that youthful, bright and happy look.
The Most Potent

Eye Serum
Available Without A Prescription

When formulating the most potent eye serum on the market, I had the following goals:
Decrease the signs of aging:

Smooth out and reduce fine lines, wrinkles and "crows-feet".

Brighten and "erase" dark circles and sun spots.
Increase youthfulness factors:

Boost skin tone, hydration and skin elasticity.

Block free-radical damage & raise antioxidant
protection.
was able to accomplish the above goals and more, with the ReVitaSure™ Vitamin C Complex Eye Serum. And the best part is that results are validated and can be seen in less than 30 days.

Research results based on a 4-week period of use by 32 female volunteers ages 21 to 65: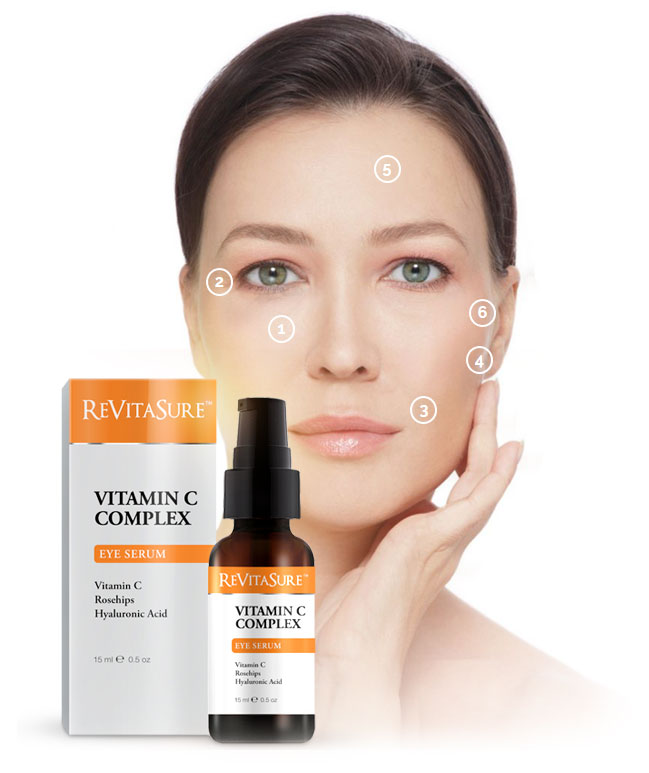 1

93 % agreed

complexion looked brighter and skin felt softer and tighter
2

88% reported

a visible improvement in fine lines, wrinkles and under eye circles
3

85 % reported

seeing a softening of smile lines and visible improvement in crow's feet
4

79% agreed

skin felt more elastic, firmer and hydrated
5

72% reported

skin appeared more youthful and had better glow
6

64% reported

a decrease in age spots - size and darkness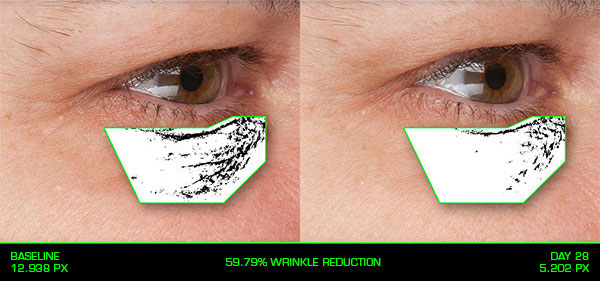 Study shows a
59.8% reduction
in the appearance of wrinkles!
Advanced digital photography and PhotoGrammetrix™ Image Analysis (the dark lines above) measured an astonishing 58.79% reduction in appearance of wrinkles in only 28 days!†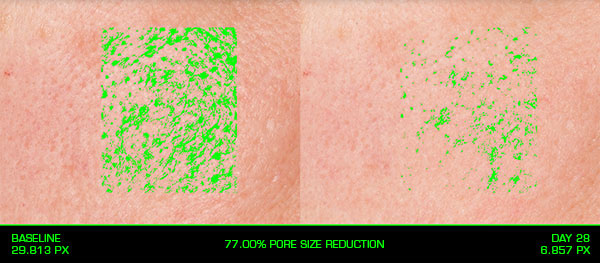 Study shows a
77% reduction
in pore size
Advanced digital photography and PhotoGrammetrix™ Image Analysis (the green dots above) measured an astonishing 77% reduction in pore size in only 28 days!†